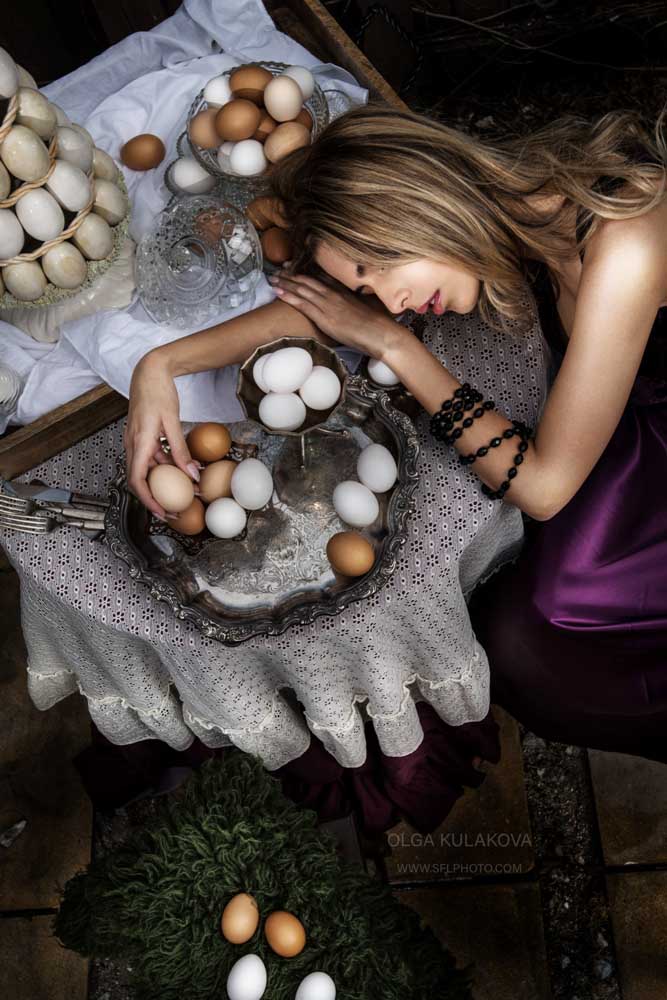 When I am starting to think about a photo shoot, usually I already have some different ideas in mind but not combined to one set together yet. I have a dress or a costume, it could be just a small detail as a hat or a flower, and later I think what other parts could fit to this set. Interior or exterior settings could be born in my mind from a scratch. It could be a chair, or some fabric, backdrop, curtain, or a pillow. And as a real artist I need to visualize something and I do some drawings.

In this case it was the idea with apples, but by mystery way transformed to eggs mood. May be because it was just a few days before Easter, and I had that unique Italian vintage eggs pyramid table center piece I never used in a photo shoot before.
So, a few days before I met Vanessa, who is beautiful and elegant model and fashion and lifestyle blogger from Rio de Janeiro, based here in Miami, and we scheduled the day and the time for our photo shoot.
One day before photo shoot I went to the grocery store and got bunch of different types of chicken eggs. I arranged outside location setup, all furniture, fabrics, table accessories and Vanessa's outfit.
And voila! Enjoy!
And please do not forget to tell me, what you think.